Are you looking for a tooth replacement option that is strong, reliable, and aesthetically pleasing? Consider dental implants. At Gilbart Dental Care, we can help you get the beautiful dental implant restorations you need. Below, we have answered some of the questions we most commonly hear regarding dental implants. Please feel free to contact our team with any additional questions or concerns you may have.
What is a dental implant?
Dental implants are a comprehensive tooth replacement solution. They are made of three parts — the implant itself (that is surgically placed into your jaw), the restoration (tooth replacement), and an abutment that connects the two. Our team not only handles the restorative portion, but often we can surgically place the implant as well, saving you the time, money, and inconvenience of traveling back and forth between separate offices. We work hard to create replacement teeth that are beautiful, comfortable, and long-lasting. Your satisfaction is extremely important to us — we custom-design your restoration to fit your size, color, and shape preferences.
Why should I choose dental implants over another restorative option?
Unlike other restorative dentistry solutions, dental implants actually replicate the entire structure of the tooth, not just the visible white portion known as the crown. By recreating the root hidden beneath the gumline as well, your jawbone is preserved, allowing you to maintain both a younger facial appearance and better overall oral health as time passes. In general, dental implants are the healthiest, strongest, most reliable, and most aesthetically appealing tooth replacement option we offer.
What does it take to get a dental implant? How long is the process?
Once we have determined that you are a viable candidate for dental implants, our staff will schedule you at our office for the surgical portion of the procedure. This will involve your implant(s) being placed directly into the open gaps in your jawbone.
Following the surgery, your mouth will need time to heal and your implants will need time to create a natural bond with your tissue and bone. Once this process is complete, you will return to our office so that we can create unique, high-quality restorations to sit on top of the implant(s), completing your healthier, happier smile.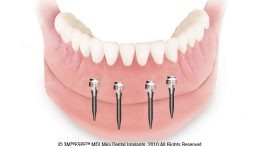 What are my restoration options?
In cases of single dental implants, dental crowns are the dental restorations of choice; however, this option can become too involved and expensive if you have several teeth in need of restoring. Thankfully, there is another option – implant-retained prosthetics. These prosthetics closely resemble traditional dental bridges and dentures, but they are designed to securely attach to implants. This will allow you to enjoy a much more confident fit overall. Both fixed and removable options are available as well so that you can select the one that best fits your needs and preferences. Shown below is just one example that allows you to snap your dentures in and out from your dental implants, giving you a far more stable and comfortable platform for chewing, talking, and smiling!
How can I learn more about dental implants?
If you've lost one or more teeth, it can be a struggle to even get out of bed in the morning and face your incomplete smile in the mirror. Here at Gilbart Dental Care, our team wants to help you regain what's missing as quickly as possible, both to boost your self-image and to help you avoid oral health concerns like shifting teeth and jawbone deterioration. Dental implants are just one of several reconstructive options, but they are often our top recommendation due to their valuable health and aesthetic benefits.
You can learn more about dental implants and whether it is the best solution for you by scheduling a consultation with Dr. Lucy or Dr. Jonathan. You can reach our Frederick, MD location at (240) 772-5643. You can reach our Hagerstown, MD location at (240) 949-7453. You can also use our online form to send us a message. We will be happy to help you find a date and time that works well with your personal schedule. We can't wait to help you regain what you have lost with dental implants.